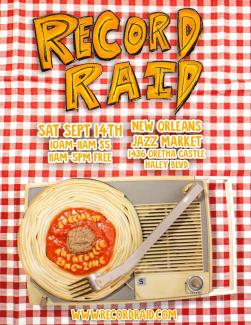 Record Raid is back! New Orleans largest record show, celebrating our 10th anniversary, returns after an unfortunate cancellation in July due to Hurricane Barry. That show promised to be our biggest ever (33 vendors) and we're hoping to deliver on that in September.
Where: New Orleans Jazz Market (1436 Oretha Castle Haley Blvd)
When: Saturday, September 14th 2019
How Much: $5 Early Bird entry at 10am, Free entry after 11am.
Record Raid is a sort of music flea market with vendors from all over the gulf region (and beyond) selling LPs, 45s, CDs Cassettes, audio equipment and more. New and used, no genre restrictions, ranging from cheap stuff to build your collection and sought-after rarities.
Want to sell? You don't have to be a professional, just head to our vendor page for details. 50% off your first table means you can set up for as little as $20.