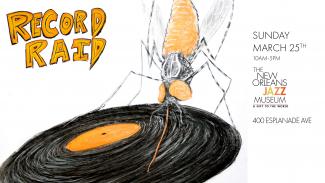 Record Raid is back! We're partnering with the New Orleans Jazz Museum at the Old US Mint. A lot of our vendors have been patiently waiting for the next opportunity to sell... and that means crates overflowing with records. Come browse LPs, 45s, CDs, Tapes, and more from vendors all over the region. And soak in some music history while you're at it!
Where: The New Orleans Jazz Museum, 400 Esplanade Ave
When: Sunday, March 25th 10am-5pm.
Early Bird Entry $5 From 10am-11am. Free after 11am.