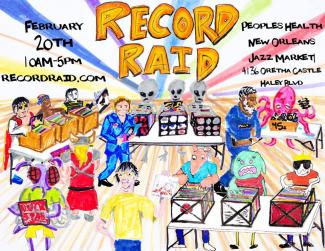 February 20th, 10am-5pm at the Peoples Health New Orleans Jazz Market (1436 Oretha Castle Haley Blvd)
Still recovering from Mardi Gras? How does finding a boatload of records and spinning them all weekend sound to you? The Record Raid is back for a winter show, with 28 vendors and over 40 tables full of vinyl, CDs, cassettes and more. The event is indoors, so rain or shine (forecast says shine), hot or cold (forecast says pleasant)!
The parts that should stay the same are the same: free entry, all ages, vendors from all over selling new and used from all genres under the sun. And we're back at the Jazz Market, which went over really well last time.
What's new?
Raffles! We've done 'em before and we're bringing it back. We have prizes from Euclid Records, Skully'z, Retro Music Co., Sinking City Records. We'll also have a turntable up for grabs!
Merch! We'll have some Record Raid branded T-shirts and tote bags for purchase. Any amount that you spend on these or the raffles keeps the Record Raid functioning!
DJs! Sure, we've had DJs at the Record Raid for a while now, but to give WTUL a shout-out for their upcoming pledge drive, we've loaded it up with WTUL DJs. As always, conversational volume and tasteful!
What you should know
Vendors are encouraged to bring credit card readers, but we can't force them to. The nearest ATM is 2 blocks away, so I suggest you bring cash. Street parking only: I didn't hear many complaints about it last time, but maybe I just didn't hear them.
===
FOR IMMEDIATE RELEASE
Record Collectors Seek Out Vinyl, CDs, and More at the Record Raid February 20th at the Peoples Health New Orleans Jazz Market.
Record stores and private collectors sell vinyl, CDs, tapes and more at New Orleans' biggest pop-up record store.
Record Raid is Louisiana's largest and longest-running record show, an event where over 25 vendors sell LPs, 45s, CDs, cassettes and more. The event takes place at the Peoples Health New Orleans Jazz Market at 1436 Oretha Castle Haley Blvd from 10am to 5pm. Music lovers of all ages are welcome and entry is free.
Record Raid started in 2010 as the WTUL Record Fair and has grown alongside the rising popularity of buying music on vinyl. Not only has its audience grown, but New Orleans' growing selection of record stores has grown out of it; Euclid Records NOLA, Captain's Vinyl, Nola MIX, Disko Obscura, Sisters in Christ, Covington's Retro Music Co., and Lafayette's Lagniappe Records all sold at Record Raid prior to finding a permanent storefront.
However, a big part of the Record Raid is finding records from people that aren't as easily sought out. "Jivin'" Gene Mark, formerly a WWOZ DJ, brings his specialized selection of New Orleans golden era rhythm and blues 45s. Ron Webb, the garage sale king of Baton Rouge, tends to bring in boxes upon boxes of cheap LPs priced to move. Fees to sell at Record Raid are kept low to allow anybody to bring out whatever might be cluttering their attic -- often these mystery sellers are where the real gems hide!
The idea behind these events is to grow a greater appreciation for music simply through exposure and to let like-minded music fans find a place to meet. The Peoples Health New Orleans Jazz Market proved to be a great fit for this atmosphere at the last Record Raid. There will also be live DJs provided by WTUL (in the midst of their 2016 pledge drive) and raffles of records, turntables, and other audio paraphernalia.
For more information contact
Hunter King
504 444 2442
Event info at