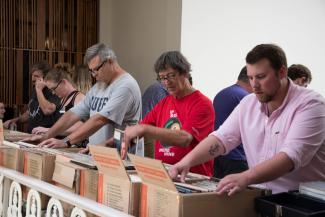 VENDOR REGISTRATION IS CLOSED! PLEASE JOIN THE MAILING LIST TO FIND OUT ABOUT THE NEXT ONE
The last Record Raid at the Peoples Health New Orleans Jazz Market was a lot of fun, so I reckon we'll do it all over again!
When: Saturday February 20th 2016. Event is from 10am to 5pm. Load-in from 9am to 10am, load-out 5pm to 6pm.
Where: People's Health New Orleans Jazz Market, 1436 Oretha Castle Haley Blvd, New Orleans, LA
How much: $30 per table 8 foot table until January 15th when paid online. $40 if paying day of (with RSVP) or until February 6th. Maximum 2 Tables. There will be more than enough chairs on site. Vendors must RSVP by February 7th - no exceptions!
What you can sell: Music of any format, vintage, used or new. Record labels are free to sell their music as well. Consumer audio equipment is great too, in fact there's always somebody there looking for a turntable. Music-related ephemera (books, movies, memorabilia, t-shirts) are OK so long as they're not the focus of the table. We do make some exceptions, so feel free to ask.
What you can't sell: Food and drink. As above, Crafts are generally discouraged unless they're clearly a "side item", musical instruments are discouraged, though you may leave a paper at your table letting people know (so long as they're not the focus). You should be selling *something*, for instance you cannot set up a table promoting another event.
About the Record Raid: We're going into our 6th year and it's getting bigger and bigger. We counted about 350 visitors on a rainy day for the last show, and we think we can do better for this one. Our shows are casual and a little funky. We try to keep entry free and tables fees low to keep the crowd diverse and not turn any potential customer away. We want it to be a place where music lovers congregate and can talk about records.

About the Peoples Health New Orleans Jazz Market: Our last Record Raid was the first show at this venue and it was a hit!  Last time we comfortably fit the most vendors we'd ever had, and I daresay we could squeeze a few more in. It's a very new building and very swanky, but perhaps more importantly it's go the air conditioning or heating that'll make these shows more comfortable. We had our first rain-affected Record Raid in November, and I think it went pretty well! I need to update the graphic on the right to include the stage area. I don't think it'll come down to this, but if we have an unprecedented amount of vendors we may need to utilize the upstairs areas, which are still very visible and accessible by elevator.
The jazz market has a bar, though I've been assured that it's still all-ages. They don't serve much food, though there are options nearby. We may try to rally some food trucks outside. The bathrooms are nice too.
The one bummer here is that there's no dedicated parking, though there's usually enough nearby on the street. We ask that you please repark your car after unloading to allow others to unload and make things easier for customers.
There are some walls with outlets on them. If you need this, people let me know and I'll try to reserve a table near an outlet for you.
Other details
Table location is first-come first-serve. You may not provide your own table. You may bring other display racks etc as long as they don't get in anybody's way. You may sell items underneath the table. If for any reason you need to cancel, refunds for the tables are available up until February 6th.
It's generally a REALLY good idea to have a Square or some way to accept credit cards. We'll never force you to have a square, but it's nice for customers. The nearest ATM during the last show was 3 blocks away -- not ideal! There may be a bank opening up across the street, but I haven't checked it out.
We expect to have a table at the front to help people with questions (though the event itself is free). We've been assigning nametags to tables and people. The point is to make sure people know who to talk to when they find records. To be honest, we don't care what your name is exactly, the important thing is that it matches what's written on your table.
I would make sure to bring a handtruck if you have one.
People often ask what they should sell. My answer is always "Play to your strengths". We get a very diverse crowd, and there's often somebody that's into what you have. Our recent poll had a few people complaining that there was too much classic rock and other "beginning record collector" stuff. People are definitely looking for deals, but don't leave the big ticket stuff at home either. Things that I always hear people saying they want to see more of: punk, reggae/ska, 90's-2000's indie rock.
Other "attractions"
As usual we expect to have a few DJs. We're going to try to bring back the raffle for this one.
Important info about future Record Raids
The rental fee for this space is not easy for us. We *may* be raising table prices another $10 at the next Record Raid. We're trying to find ways to avoid doing that, but we'll see.
There will not be a Spring Record Raid. I'm getting married in April, I need to clear my plate a bit. We'll be back for the summer.