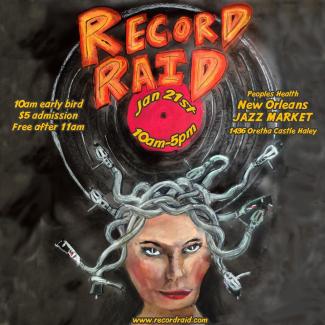 Christmas is over, you've got spending money again and a need for music. Record Raid shall provide! Come on over the the Peoples Health New Orleans Jazz Market at 1436 Oretha Castle Haley Blvd and get to digging!
New Orleans' largest record show with over 25 vendors selling LPs, 45s, 78s, CDs, Cassettes, you name it. Vendors range from long-time collectors to record stores to regular schmoes looking to make some space and some cash. I
Admission is free, buying is optional -- you can come to just enjoy the DJs and talk music with like-minded folks.
FREE admission from 11am to 5pm.
Want to get first dibs? Come at 10am for early bird admission at $5.
Featuring DJs Ladi Li, Swamp Boogie and Proud Father providing browsing tunes.
Raffle items from Skullyz, Domino, Captain's Vinyl and a silent auction of Beatles autographs thanks to Michael from Sixties Singalongs at Kajun's
Facebook event here