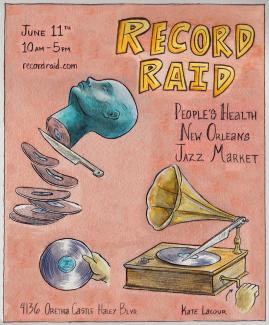 We're back for our second show of 2016, with more vendors than ever selling LPs, 45s, CDs, Cassettes and more.
Vendors range from record stores to private collectors, both local and all over the region. Big ticket rare records to dollar-bin cheapies, all sorts of genres of music.
We're back at the Peoples Health New Orleans Jazz Market at 1436 Oretha Castle Haley Boulevard.
June 11th!
Early bird admission $5 from 10am to 11am. General admission is 11am: all ages, free entry! Doors close at 5pm.
We'll have RAFFLES! DJs! A food vendor!
Come hang out, talk music, and dig up some gems!
Want to sell? See our vendor page
------
PRESS RELEASE
FOR IMMEDIATE RELEASE
Record Raid Fills Peoples Health New Orleans Jazz Market with Vinyl June 11th
Pop-Up Record Store brings vinyl enthusiasts from all over the gulf region for a day of digging through music.
On Saturday, June 11th the Peoples Health New Orleans Jazz Market will host its third Record Raid from 10am to 5pm. Record Raid is New Orleans' largest record show with over twenty record vendors congregating to sell LPs, 45s, CDs, cassettes and more. Vendors range from record stores to private collectors to people cleaning their attic; some from New Orleans, some of them from the gulf region, some of them traveling collectors from many states away. The music is similarly diverse, with records still shrinkwrapped from being released this year to dusty old records from the 50s, highly-sought rarities to dollar bin steals, and genres ranging from 60's surf rock to dixieland jazz to electronic and beyond.
When the Record Raid started in 2010 as the WTUL Record Fair, creator Hunter King found his vendors in the garage sale vinyl hounds he would see every weekend early in the morning. Some of them, like blues authority Terry Pattison, have set up at every show since. But the word has spread to others, like Alabama's Keith Glass who has since founded Mobile Records. In fact, several local record stores began as Record Raid vendors; Captain's Vinyl, Disko Obscura, Nola Mix, Lafayette's Lagniappe Records, and even Euclid Records all sold at Record Raid before their own brick and mortar.
After years of trying to find an ideal venue, Record Raid has found a good partner in the Peoples Health New Orleans Jazz Market. While record shows across the country are often held in VFW halls and hotel convention rooms, the Jazz Market provides a more vibrant backdrop for music conversation. Record Raid has several ways of combating the competitive, greedy atmosphere that might befall your average collectors' events. Djs spin rare records, food trucks provide a tasty break from the hunt, and raffles add another round of excitement. It makes for a casual, laid-back atmosphere that lets music fans talk about their favorite records with each other.
The event is all-ages with an early-bird admission from 10am to 11am for $5, then free admission from 11am to 5pm. More information at recordraid.com.
Contact Info
Hunter King
504 444 2442
Facebook event