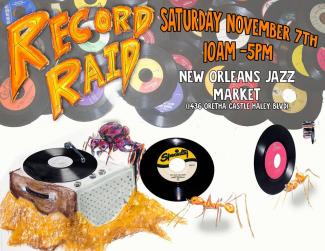 After missing a summer show, we've finally found a new venue to have a really killer record show
When: November 7th 10am-5pm
Where: Peoples Health New Orleans Jazz Market, 1436 Oretha Castle Haley Blvd
How much? FREE to enter
Kid friendly? Yep!
The Record Raid is New Orleans biggest record show, over 5 years running. Think of it as a pop-up record store with a whole bunch of people selling records from their personal collections or store collections all under one roof. We keep our shows casual and fun, and more than anything want it to be a great place for music lovers to meet and talk records with like-minded nerds.
Full Press release
The Record Raid brings vinyl lovers together at the Peoples Health New Orleans Jazz Market Saturday November 7th
Pop-up record store brings music vendors from all over the gulf to sell used and new records, CDs, cassettes and more.
For over five years the Record Raid, New Orleans largest record show, has been bringing record lovers together to spend their day digging through dusty LPs, 45s, CDs and cassettes in search of that one gem that's always eluded them. The event will be from 10am to 5pm at the Peoples Health New Orleans Jazz Market at 1436 Oretha Castle Haley Boulevard.
The music for sale spans a wide array of genres depending on the dealers. Terry Pattison is the go-to-guy for rare blues and jazz. Gene Mark, former host of WWOZ's 50's rhythm and blues show, has New Orleans golden era of rhythm and blues ready for you at 45rpm. Baton Rouge oddball Ron Webb is a garage sale king, with boxes full of whatever he's scavenged priced to move. None of these people work at record stores, they're record collecting hobbyists that often have items that you rarely see in record stores.
Speaking of record stores, in a sense the Record Raid lets you visit a bunch of them at once. Kent Chantellier is a Record Raid regular who just opened the northshore's only record store. Keith Glass makes the trip from Mobile Records in Alabama. Euclid Records, Lagniappe Records, Disko Obscura, and Captain's Vinyl all sold at the Record Raid before they went on to find a place to sell them every day.
This will be the first Record Raid partnering with the Peoples Health New Orleans Jazz Market (though the last Record Raid was at the Zeitgeist a few blocks away). This venue will be the largest yet, allowing more vendors than before and more space to root through music. The Record Raid's vision is to preserve music history by simply allowing greater access to as much of it as possible, and the Peoples Health New Orleans Jazz Market falls nicely in line with that vision.
 
Finding that you already have more music than you can listen to? The Record Raid is about being a comfortable place to interact with other people as passionate about their music as you are, and there will be DJs and raffles to foster that atmosphere. And of course, you can sell! Vendor fees are inexpensive, and it's easy to do by signing up at
www.recordraid.com/vendor
.