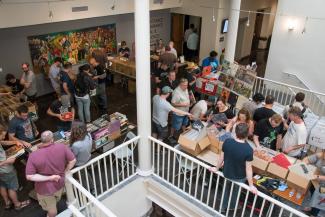 This year, Record Store Day is Saturday, April 16th 
Record Store Day continues to be controversial, but the record stores themselves seem to agree: it's very helpful. Even if you're not interested in the official Record Store Day merchandise, it's nice to drop into these stores and be a part of it, especially when a lot of them are doing their best to make the day fun in other ways. If you ARE interested in some of the official record store day items, you can find a list on the Record Store Day website.
Here's a list (in alphabetical order) of what stores in New Orleans are doing what, with a few others in neighboring areas. Assume that all locations are first-come-first-serve (no holding RSD items) and only allow one of each RSD item per customer unless specified otherwise. Phone numbers are listed in case you want to check on a certain item. The RSD option pretains to whether they've signed the Record Store Day pledge and are getting a whole lot of those special releases.
Shortly after I first released this, my friend Alex Woodward made a similar article for The Gambit, worth checking out!
Captain's Vinyl
Address 637 S Pierce st.
Phone (504) 908-9612
Hours 10am-6pm
RSD No
Facebook page
Captain's Vinyl doesn't have RSD stock, but they'll be doing a 20% off sale all day. Also, with your purchase you get a free beer and 20% off at the newly opened Craft Beer Reserve down the street!
Disko Obscura
Address 113b St. Mary Street
Phone (504) 872-0726
Hours 11am - 7pm
RSD No
Joey Buttons, Mr. Obscura himself, says his plans for RSD are "absolutely nothing". Still worth dropping by, especially if you're visiting NOLA Mix as well.
Domino Sound
Address 2557 Bayou Road
Phone (504) 510-9356
Hours Noon - 6pm
RSD No
Domino is never particularly interested in the Record Store Day hooplah, though they sometimes do order a few items if they're really interested in them.
Euclid Records NOLA
Address 3301 Chartres St.
Phone (504) 947-4348
Hours 10am - 7pm
RSD Yes
Facebook event
Euclid tends to be the hotspot for Record Store Day. They order boatloads of RSD material exclusives. They always make a big event out of it, and this year it even extends to SUNDAY! Live bands throughout both days. Includes a visit from "watch me eat a hot dog" (I have no idea what that means but I am intrigued). Free beer, free food. They're actually opening at 10am instead of their normal 11am.
Jim Russell's Records
Address 1837 Magazine st.
Phone (504) 522-2602
Hours Noon-5pm
RSD No
I'm only listing this because of lot of people didn't know: Jim Russell's has been closed for good for a few months now. If you're nearby, check out Disko Obscura or NOLA Mix instead.
Louisiana Music Factory
Address 421 Frenchmen St.
Phone (504) 586-1094
Hours 11am - 8pm
RSD Yes
Facebook
LMF is stocking official record store day merch. I've always thought they're an underrated location for RSD. They don't order a ton, but not too many are lining up at their door either. They'll have three bands performing in the afternoon.
The Mushroom
Address 1037 Brodway st.
Phone (504) 866-6065
Hours 10am - Midnight
RSD Yes
A warning: The Mushroom tends to open early on Record Store Day. That's probably a good thing, but I've definitely gotten there at 10am and found that the thing I'd looking for had already been grabbed. Every year they have their birthday sale around 4/20... that starts on Monday this year. 
NOLA Mix
Address 1522 Magazine St.
Phone (504) 345-2138
Hours 11am - 6pm
RSD Yes
Facebook event
This is NOLA Mix's first Record Store Day and they intend to do it right. In addition to official RSD releases, they have a food truck, free beer (in limited supply) and DJs spinning all day.
Peaches Records
Address 4318 Magazine St.
Phone(504) 282-3322
Hours 9am - 8pm
RSD Yes
Facebook Page
Peaches usually orders a pretty good amount of RSD stuff and is one of the first ones to open. Keep in mind that they have moved! They have "treats" from Not Your Father's Root Beer and will have giveaways from Skullcandy headphones and tickets from Winter Circle Productions.
Sisters in Christ
Address 5206 Magazine St.
Phone (504) 452-5517
Hours Noon-6pm
RSD Yes
Sisters in Christ have carved out a nice niche for themselves uptown. They've only just recently moved out of Gasa Gasa and into a new location on Magazine St. This is also the first time they'll be stocking RSD exclusives. Speaking of exclusives, they'll have a 7" by local punk group PEARS exclusive to the store (Thanks to The Gambit for filling me on that one)
Skully'z Recordz
Address 907 Bourbon St.
Phone (504) 592-4666
Hours 9am-8pm (sometimes opens a few minutes early)
RSD Yes
Facebook
Skully'z always carries about as much RSD material as they can possibly fit into their tiny store. They also open pretty early, always a nice option for Record Store Day, though there's usually a pretty good line as well. They'll have some House of Blues ticket giveaways throughout the day.
Outside New Orleans
Atomic Pop Shop
Address 2963 Government St. Baton Rouge, LA
Hours 9am - 6pm
RSD Yes
Facebook event
Atomic Pop Shop will start handing out numbers to get in at 7am, then will open doors at 9am. They'll have several live bands during the day and a storewide sale, then another show at 9pm.
Capital City Records
Address 4641 Perkins Rd., Baton Rouge, LA
Hours 9am-6pm
RSD Yes
Facebook event
This is Capital City's second Record Store Day, though I didn't get a chance to check out their first. They'll open at 9am and will have several giveaways
 
Lagniappe Records
Address 313 Jefferson St.
Hours 11am-7pm
RSD Yes
Facebook
Lagniappe Records moved to Lafayette a little while ago, and the new store is NICE! They'll have free beer from Bayou Teche and a food truck outside as well as a DJ.
Mobile Records
Address 140 S Sage Ave # B, Mobile AL
Hours 8:30 am-7pm
RSD Yes
Mobile Records is a mainstay at the Record Raids, so if you're anywhere near Mobile make sure to check out the brick & mortar - it's even better than the table version!
Retro Music Co
Address 1105 Village Walk Dr., Covington LA
Hours 11am-6pm
RSD No (though listed on the website)

I just got word from Kent that he is closing up Retro Music Co for good, won't even be open for Record Store Day. A bummer for sure.